VANCOUVER SLEEP CLINIC
I've been following Vancouver Sleep Clinic for a few months now, and I reached out to them before they embarked on their first tour in America, opening for Daughter. They were kind enough to respond, and I was lucky enough to speak with lead singer Tim Bettinson before seeing them at Terminal 5 in New York City with my friend Iyra, and they were absolutely INCREDIBLE. Vancouver Sleep Clinic's music is absolutely incredible, and they are so kind! You can check out their music here: https://open.spotify.com/artist/77BznF1Dr1k5KyEZ6Nn3jB. They will have a new record coming out soon!
Katelin: Hi, Tim! Thank you so much for doing this – and happy Halloween!
Tim: Hey! Oh, yeah, this is our first proper Halloween! We don't really have it in Australia, so we're super excited.
K: Oh, yeah, welcome to the States!
T: Oh, where are you from?
K: New York! I'm coming tomorrow. I'm so excited!
T: Yeah, we haven't been here before! This is our first time in New York, so it's really good to be here!
K: Really? Oh, wow, that's so exciting!
T: Yeah, we're absolutely pumped! It's such a cool city.
K: Okay, so we had a couple of questions for you! For you, what is the most powerful thing about songwriting?
T: For me, it's the ability to connect with someone you've never met on such a real level. When I write music, it's really crazy because I can write about something that's really personal to me, and is part of my journey, but someone on the other side of the world can take their own part of the song and bring it into their own life. It's like this unspoken truth. I can't really describe it properly, but there's this power and energy in music that I don't think we can find anywhere else in this world. It's really the only place where we can translate our feelings across different lives and cultures. I think that's the coolest thing about being an artist; being able to write and share music with people. That ability to connect is so incredible.
K: Oh, yeah! I think it's almost an out of body experience for me. It transcends so many boundaries in day-to-day life.
T: Yeah, it's definitely a strange thing.
K: It totally is! For you, is it difficult to write and perform music that puts you in an uncomfortable or vulnerable place?
T: Yeah, definitely, when it's something personal, it's definitely intimidating. You hope people like it and people can be a part of it, but you just don't know. But for me, performing is where I get really nervous. It's so different from recording; you're trying to make a live experience for people, and you're looking into their faces, seeing all of the people that listen to and appreciate your music. That's where I really start to freak out, but at the same time, it's also absolutely incredible. I love it because it's real. I feel those emotions and those rushes, and I get to hang out with people after the show. It's really an incredible experience; it's very human.
K: I think that's a really good way to explain it. Sharing music live is such an overwhelming thing, especially because music is such a big part of our lives, and we don't realize how impactful it actually is.
T: Yeah, definitely!
K: Do you think that there is a significant stigma against mental illness in the music industry?
T: I personally haven't had a whole lot of experience with that. I think the thing with our project is that we make kind of nice music, and all of the fans and people we've been able to work with have been absolutely lovely, so we haven't had a whole lot of negativity thrown around at all, but we know it exists. I think especially when people make darker music, it can cause them to be misrepresented. The other thing about making darker, emotional music is that it can definitely be emotionally taxing on the artists and the other people involved. I've definitely met people who become so invested in their music that it's hard to separate mentally from it – me included, especially when I was writing some of the darker Vancouver songs. There are definitely points where you start to get lost within what you're doing. I think it's important that you stay fragile around that. For us, we've found a really nice support system and everyone has been so lovely and accepting of our creative process, but we know not everyone is that lucky. Just a few weeks ago, a guy from a band we knew in Brisbane committed suicide because he had been struggling with depression, and was having a hard time with things. It's really sad, everyone should be able to have a support system. But music is also powerful because there's such a community to it, and we need to get that community stronger and support each other.
K: Yeah, I definitely think the community aspect of music is hugely powerful! I mean, I'm only 16, and I live in a small town, so I'm not part of like a huge community of musicians, but the small community I'm in is incredible, and I think that's such an important part of music and being a musician.
T: Yeah, it's awesome, right?
K: It's really cool. You know, I was thinking, in a lot of your other interviews, people are so fast to compare you guys to bands and artists like Bon Iver and SOHN, who I love, but I think you guys have a super unique and distinctive sound! Is it frustrating to be compared to other artists and have others almost put you in a box when you are trying to be a unique band?
T: It really depends on what kind of box people are trying to put us in. I think when people almost write you off as a copier, that can be frustrating, but when you're simply compared to artists like that, it's an honor. That's a big way that people start listening to your music, at least in my opinion. I've found some of my favorite bands by listening to artists that were compared to some of my other bands and artists!
K: Oh, I'm totally guilty of that! I actually found you guys through Spotify, so I definitely do the same thing. It is a really good way to find new bands and artists.
T: Yeah, it is! That's why I'm not really mad about the comparisons, it can just be a little frustrating if people don't look beyond that, but I'm not really phased. I'm just trying to make music I think is cool, and as long as people can access that music, I'm happy.
K: Oh, yeah, definitely. How has creating music and being a creator helped you in your life?
T: It's definitely helped me get out a lot of things, especially emotionally. Creating art has provided a healthy way for me to express those emotions. For me, it's the best way to do it. Everyone has different ways of doing it – whether you're at a punching bag in a boxing gym or drawing, everyone has different ways of channeling their emotions. For me, it's music. I love that I can go home after a tour or being overseas and just sit in my studio and make music. I think it's really cool, it's just how I get through life.
K: Awesome! I know you guys haven't really toured in a while – how does it feel to be going back on the road? Are you guys excited, or is touring really taxing for you?
T: We're absolutely psyched. It's been so long! We can't wait to get out again. We've been talking about this for ages, but we've been making this record for so long and it kept on getting pushed back. I guess that just makes us more hungry and psyched to be out here again! We're really thankful to be out here doing what we love and meeting new people! It's going to be great.
K: Yeah, I'm coming tomorrow and I'm so excited!
T: Yeah, it's going to be so cool! I can't wait either.
K: Terminal 5 is supposed to be a really cool venue also! I haven't been yet, but a lot of my friends have and they've really liked it! It's going to be so different from the last time I saw Daughter. I saw them in this old movie theater right outside Boston, which was absolutely incredible, but this is going to be amazing also. I can't wait!
T: That's so cool! I'm jealous.
K: Another thing I've noticed abut your music is that at least with the EP, it's one of those albums that really needs to be played in order. It very much tells a story, at least to me, so I was wondering if you wrote it with that intention or did it just end up being incredibly harmonious?
T: I wish I could say that it was intentional, but it actually took a long time to write. I started working on it at the end of high school, and it took me through the next few years to finish it up. I actually wrote loads of songs for that EP, and ended up hating half of it. I think it kind of came together nicely, and when I make records, they have to kind of match a whole idea and vision, and I want that entire record to come together and match that vision. So I can't say that I wrote it all in order, but it all came together and I was really happy with it. It was super low budget because I was just a kid in high school, but we did it and we got there. I'm really proud of it.
K: And your newer stuff too – I've been listening to "Lung" nonstop since it came out. It's absolutely incredible. That song has such an incredible power to say so much with such sparse lyrics! It feels so incredibly real and honest to me: how was writing that song for you?
T: That was the first song I wrote for the album, and we were going on tour and only had five songs to play. We didn't have an hour long set, so like two days before we went on tour, I wrote that song. It was kind of when Vancouver Sleep Clinic was breaking into the industry, and everything was really overwhelming. It was all kind of happening at once, and we were playing our first shows to sold-out crowds supporting London Grammar in Australia, and we hadn't really played before. So it was a really high-pressure, overwhelming time, and that song was a way for me to kind of talk about that in a direct way.
K: Yeah, that absolutely sounds incredibly overwhelming. It can be so hard to cope when things are moving that fast.
T: Yeah, it was really hard. I like couldn't even sing!
K: The other question I have music-wise is about "Rebirth". I think there is something incredibly powerful about that song and how it sort of gives you the idea of starting over. The Winter EP is obviously from a very transitional period in your life, so how was writing that song for you?
T: Yeah, that song is really special to me. I wanted kind of a breaking point between that EP and the album. I had just finished high school, and was kind of moving into the real world to play these songs, and "Rebirth" was really about forgetting all of the high school crap, kind of leaving that all behind me and embracing what I was about to do and who I was about to become! I think that it was a perfect way to close out that season of Vancouver Sleep Clinic. I was really happy with it.
K: Amazing! So these are kind of our closing questions, but what's your current favorite album right now?
T: Ooooh. That's hard. I would probably say Chance the Rapper's "Coloring Book", I've been listening to that a lot lately.
K: And what are you most excited about for this tour?
T: I'm super pumped to just meet everyone because we haven't been to the States before and we have lots of friends and fans here! I can't wait to see everyone who's listened to our music for years and hang out with them! It's also going to be awesome to see America – we're so excited!
K: Yeah! I hope you guys have a really good time! I'm so excited for tomorrow! Thank you so much for talking with us!
T: Thank you! That was awesome, and we're excited too!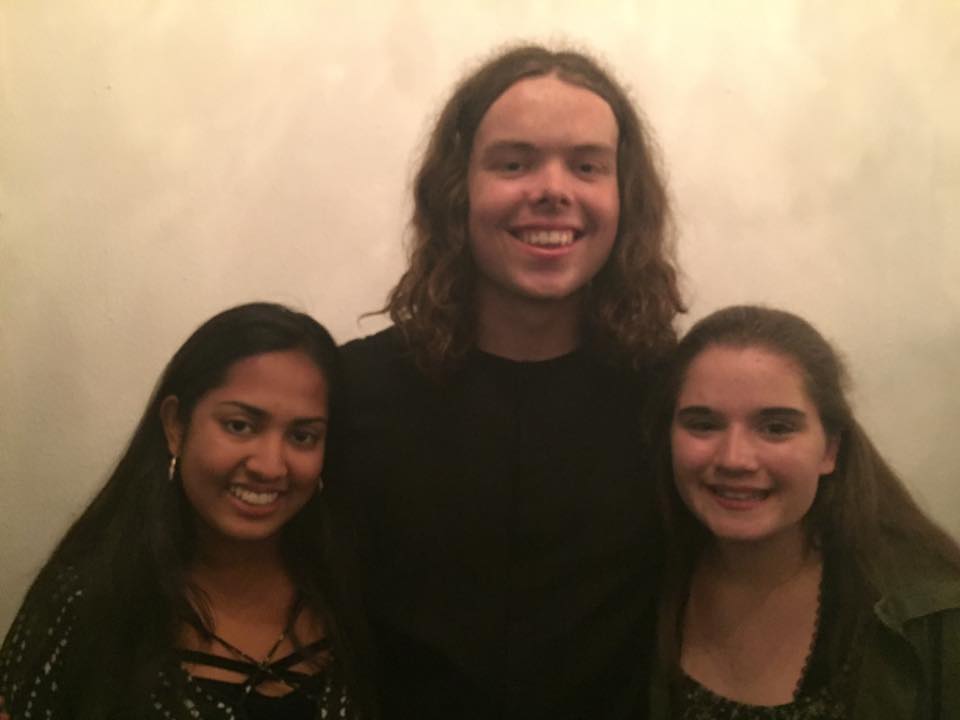 Me, Tim, and my friend Iyra after the Terminal 5 Show!
Read More